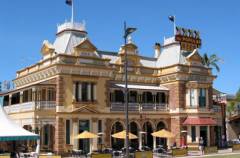 Brisbane Queensland

Brisbane

Good morning, welcome to Brisbane Australia's fastest growing city, the temperature is currently at 26.3°C and humidity 49%.

Your City, it's the most interactive business directory online. Packed with local business listings, informative links, services and upcoming events in your very own city. Find places to visit and things to do, pay all your bills from the one location, easy access to the daily local news and news papers. Print discount vouchers and coupons from your favourite store or restaurant before you go out, or find out what's happening in your city today. Afterall... Our City is Your City!!
| | | |
| --- | --- | --- |
| It's just got to be the place to be...!! | | |
---
"BE A PART OF YOUR CITY BRISBANE"

Place your business in Yourcity absolutely FREE
Do you want to be seen on the Internet? Why don't you give us a call to find out how we can help your business grow
Phone: (07) 4728 4568
Receive great feedback on your advertisements and great placements in major search engines. Add your business here now.
---
S
M
T
W
T
F
S
26
27
28
29
30
1
2
3
4
5
6
7
8
9
10
11
12
13
14
15
16
17
18
19
20
21
22
23
24
25
26
27
28
29
30
31
1
2
3
4
5
6